Customer satisfaction flows from Aqua Crystal water treatment business, built on Pentair Everpure
Cyprus-based Aqua Crystal are the island's official distributor for Pentair Everpure. The Everpure brand, which celebrates 90 years on the market in 2023, is one of the most recognised amongst foodservice operators worldwide, and has been instrumental in the Aqua Crystal success story. Founder and Managing Partner, Panayiotis Psaras, talked to us about his business and the power that his partnership with Pentair brings.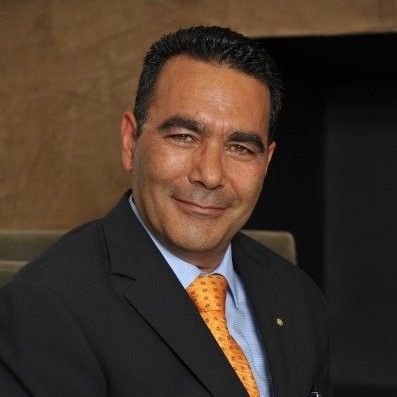 Beyond the beautiful shores of Cyprus, Aqua Crystal may be little known. But if you live there or have ever visited, there is a good chance you would have been touched by its presence. Based in Nicosia, Aqua Crystal is the major supplier of water treatment products for the island's food service industry. It has installed Pentair Everpure filters in its multiple hotels, restaurants, coffee shops, offices, hospitals, universities and shopping malls – not forgetting to mention its cruise ships and airports.

Since inception in 2006, Aqua Crystal has enjoyed steady growth, year on year. Founder and Managing Partner, Panayiotis Psaras, has built the business on a recipe of understanding customers' needs, providing exceptional quality products and delivering outstanding post-sales service. And his magic ingredient has been Pentair.
Reputation is key on a small island.
"Cyprus is a relatively small place and people talk," says Panayiotis. "There is no better channel for new business than word of mouth, but that works both ways so reputation is crucial, especially on an island. That's why, when I set up Aqua Crystal in 2006, I chose Pentair. I knew I needed products that would never let us or our customers down, and that meant Pentair Everpure."
Aqua Crystal now has customers in every part of the island's booming HORECA sector as well as many commercial and domestic clients. It installs, maintains and services water treatment equipment, improving and enhancing water wherever it is required. From coffee machines to softeners, from water fountains to ice makers, the company has a solution. Today, Aqua Crystal is the official Pentair distributor in Cyprus, but Panayiotis sees the business as so much more than just a distributor.
"It is a great strength of the Pentair catalogue – there is a solution for every problem."

We sell the solution before the product.
"We don't sell filters, we sell solutions," he says. "Every customer is different. Each comes to us with an issue; it could be their water quality, colour, taste or smell, or they may simply wish to reduce their annual maintenance costs.
When considering a new installation, we always take a holistic view. We consider the input quality of the water, the size of the business, how much water they might consume and then, given the sheer breadth of Pentair solutions, we can go back with a range of options, according to their needs or budget. With the size, range and modularity of Everpure cartridges, there is always scope to upgrade or change the configuration should their water, or capacity needs, change. It is a great strength of the Pentair catalogue – there is a solution for every problem."
"A good case was when a ship owner approached us about issues on a vessel they were considering renting out to a cruise operator. Instead of being clear, the onboard water was actually dark brown. It had become a 'deal breaker' and unless the water could be treated there would be no rental and no income. After a thorough assessment and clean, we installed different water filtration and treatment solutions after every on-board pump. Not only did the on-board water look, taste and smell fresh and pure, testing showed the water to be of the highest possible standard. That particular project uses multiple Pentair Everpure cartridges for multiple applications, and the ship still sails today."
"Pentair technical support and after-sales service is simply outstanding."

Building the perfect partnership with Pentair.
"To match the product quality, Pentair technical support and after-sales service is simply outstanding and that helps us deliver the same onto our customers. In a business-critical application, like the coffee machine filtration in a busy coffee shop, speed of response is everything. Downtime is lost revenue and Pentair is always super-quick to advise on, or source stock when we need it. Also, if we need to trial a solution in a new or unusual application, Pentair can often oblige with a test cartridge so the customer can see the difference before committing. There may be cheaper systems and cartridges on the market but I firmly believe the quality of Pentair Everpure cartridges and Pentair customer service cannot be bettered. And we all know the taste of bad quality lingers a lot longer than the taste of the low price."
Panayiotis and the team at Aqua Crystal are justifiably proud of the service they provide to their customers. "It's all about the added value we bring," he concludes. "The customer is right at the centre of our business. We are known and trusted by many of the island's hotel managers, procurement officers, facility and factory chief engineers. When you have such high customer satisfaction and loyalty, that filters back through the company, spreads by word of mouth and brings new opportunities almost every day. I am in no doubt that our partnership with Pentair is a big part of that mix – long may it continue!"
"The taste of bad quality lingers a lot longer than the taste of the low price."