Hidro-Water, making a big splash in water treatment
A market-leading business built on quality, service and partnerships
For over a quarter of a century, Hidro-Water has been synonymous with quality, reliability and service in the Spanish water treatment industry. The company celebrated 25 years of growth in 2021 and shows no sign of slowing up. Hibernón Nogueroles Giner, CEO of Hidro-Water talks about the evolution of the business, the secret of its success and the important part played by key partners like Pentair.
Water treatment is big business. It spans a vast range of markets from residential softening to municipal desalination, from swimming pools to industrial cooling. What these markets share in common is they all require specialist skills, technology and experience. It is rare to find a business that can cover the full spectrum, however Valencia-based Hidro-Water can truly boast all-rounder status. Hibernón Nogueroles, CEO at Hidro-Water traced back the business from its roots selling water softeners to becoming an international distributor and manufacturer.
Hidro-Water. Past, present and future success assured
"Hidro-Water originally started as a specialist in residential water treatment", explained Hibernón. "We built the business steadily, concentrating on delivering quality products, always being reliable and ensuring our after-sales service never disappointed.

A commitment to outstanding customer satisfaction is still our point of difference today. It has paid dividends and enabled our growth.
Successful Pentair partnership built on mutual values
Today Hidro-Water stands out as a leader in the Spanish market for water treatment components and it has grown its business through the customer loyalty earned by the quality of its services and products. Part of that quality guarantee comes from choosing its partners with care and Pentair has been in step with Hidro-Water along its journey.
"We are only as good as the components we choose, and Pentair has never let us down," continues Hibernón. "From the beginning we knew Pentair quality matched our exacting expectations and they in turn were looking for a partner they could trust in our region. You could say it is a perfect match."
"Today, Pentair supply us with components for virtually every part of our business, from pumps and valves, to filters and resins to tanks and heaters. Looking back, our partnership with them has always been more than just transactional … we share the same values. In recent years that relationship has become even more fluid and the growth of our two companies has allowed us both to find synergies leading to mutual benefits in the purest WIN2WIN style."
"Our relationship has progressed very positively and we hope to grow together much more in the medium and long term."
Technology Spotlight | Reverse osmosis | Pentair PRF- RO
A wide range of Pentair products and technologies is available through Hidro-Water and one that is turning heads, especially in the Iberian market, is reverse osmosis.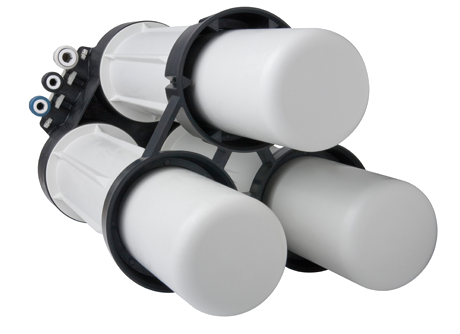 Regarded as the most rigorous of water treatment processes, reverse osmosis (RO) separates salts, minerals and contaminates from water through a semi-permeable membrane. While considerably more effective than inline carbon filter cartridges, reverse osmosis is perceived to be more expensive, with the need for additional pumping, storage and maintenance adding to the cost.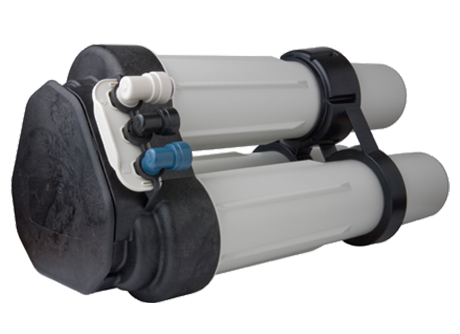 The Pentair PRF-RO changes all that with a system that provides reverse osmosis 'on-demand', with a continuous treated flow straight from the municipal supply. The Pentair PRF-RO does not require a storage tank, pumps or power and also cuts down on the water that is wasted in the process, often a drawback of RO systems.