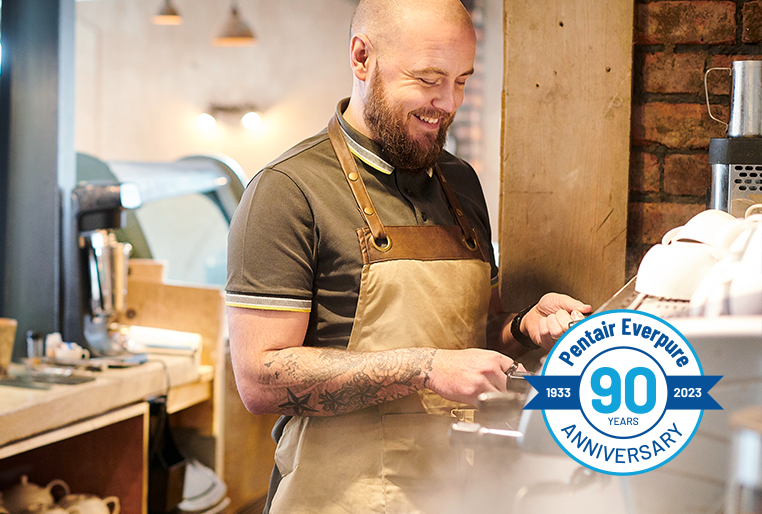 Welcome to Pentair Foodservice Europe
Pentair is one of the largest water filtration, water treatment and beverage dispensing equipment manufacturers for the global foodservice industry. Our core foodservice brands include Everpure water treatment and filtration systems, and Shurflo beverage pumps and backroom accessories.
LATEST NEWS AND EVENTS
Catch up with all the latest news and events from EMEA Pentair Foodservice team.
Everpure. 90 years of delivering water you can trust.

As Everpure celebrates its 90th year of success, we reflect on the legacy of a much loved food service brand. A successful brand is not just a name or a logo, but a shorthand for a 'brand promise'. That brand promise is a reassurance of the value its customers can expect, every single time they purchase the product.

Coming to a trade show near you!

Pentair Foodservice plans for a busy Expo schedule in 2023. The Pentair Foodservice division has been non-stop busy. It has recently seen the launch of new products, the development of a new website, a major acquisition… and, with a milestone anniversary to celebrate, life shows no sign of slowing down.

Business flows for UK Master Distributor Aqua Cure

Stuart Godfrey has just returned from The London Coffee Festival a happy man. The UK speciality coffee industry is flourishing and its demand for high-quality water is at an all-time high. That's good news for Aqua Cure, one of the country's leading suppliers of water treatment products and, as Head of Business Development, it's good news for Stuart.

Pentair Everpure range bigger and better than ever at World of Coffee 2023

Join Pentair Foodservice , Hall 3, Booth M45, June 22–24 2023, Athens. The countdown is on to Europe's Premier Coffee tradeshow and Pentair look forward to welcoming you to its stand at World of Coffee 2023 in Athens. 2023 is a big year for Pentair Foodservice as it celebrates 90 years of the most trusted and enduring names in water treatment, Everpure.

Manitowoc Ice brings new opportunities for Pentair Foodservice customers

If you're a Pentair Foodservice customer, then you're already familiar with the best-of-breed. Pentair is delighted to welcome another iconic name to our thoroughbred stable; Manitowoc Ice. Like Everpure and our other industry-leading brands, Manitowoc Ice has long been at the forefront of innovation. Adding its world-leading commercial ice machines to the Pentair family complements our vision for bringing smart and sustainable water solutions to customers in Europe and around the world.