WellMate now well made in Europe
Bringing WellMate to production to Belgium eases the pressure.
Production of one of Pentair's most popular tanks is about to commence in Europe. That will be welcome news to the many European customers of WellMate, Pentair's flagship pressure boosting vessels. They will not only be able to get their hands on these tanks quicker, but the tanks will be tested to a higher level, their certification more aligned to the requirements of European markets and they will arrive with a considerably smaller carbon footprint. It's a spectacular result for Pentair customers and underlines the company's ongoing commitment to European manufacturing for European markets. We take a closer look at the rationale behind the move, and what it means for WellMate customers.

Pentair WellMate sets the benchmark
For many in the water treatment industry, WellMate perhaps needs no introduction. For over 50 years the brand has become synonymous with water storage and pressure-boosting applications. With its state-of-the-art construction and proven reliability, it is little wonder that the WellMate range has set the benchmark, wherever pressure regulation is required. Unlike steel, WellMate's high-density polyethylene inner liner and the fiberglass-wound outer shell will not rust, scratch or dent and the tanks are virtually maintenance-free. They are light enough for a single installer to handle and are not susceptible to extremes of weather making them particularly suitable for outdoor applications.

Until recently worldwide production originated from Pentair's US plant at Chardon, Ohio, but all that is about to change. In 2022, Pentair made a strategic decision to establish production for its European market in its Centre of Excellence for Tank Manufacturing at Herentals in Belgium.

By so doing it will considerably reduce the emissions generated by shipping containers of empty tanks across the Atlantic. It would slash the lead time for WellMate orders from months to days. And it would be able to enhance WellMate certification to ensure they are even more compliant with the local needs.
WellMate European production ready to roll
The programme of establishing a new WellMate production line has been a major undertaking and is close to bearing fruit. Steering the team effort has been Herentals Operations Manager, Staf Snyers and Lean Production Manager, Leonardo Sestito.
"Tank production is firmly in our comfort zone. It's what we do day in, day out. But taking on production of a new pressurised tank system brings new challenges," said Staf. "WellMate liners differ from our regular liners in that they have openings top and bottom. That required a major adaptation of our principal blow moulding machine, which in turn meant removing and returning it through the factory roof. You can never fully anticipate what is round the corner! In addition, with WellMate being a pressurised system, we needed to adhere to the local requirements for manufacture; the European Pressure Equipment Directive (PED). These are stringent and cover a host of additional requirements such as materials traceability and operator certifications. Happily, Pentair is no stranger to exacting EU directives and we are in good shape to commence production in the next two months."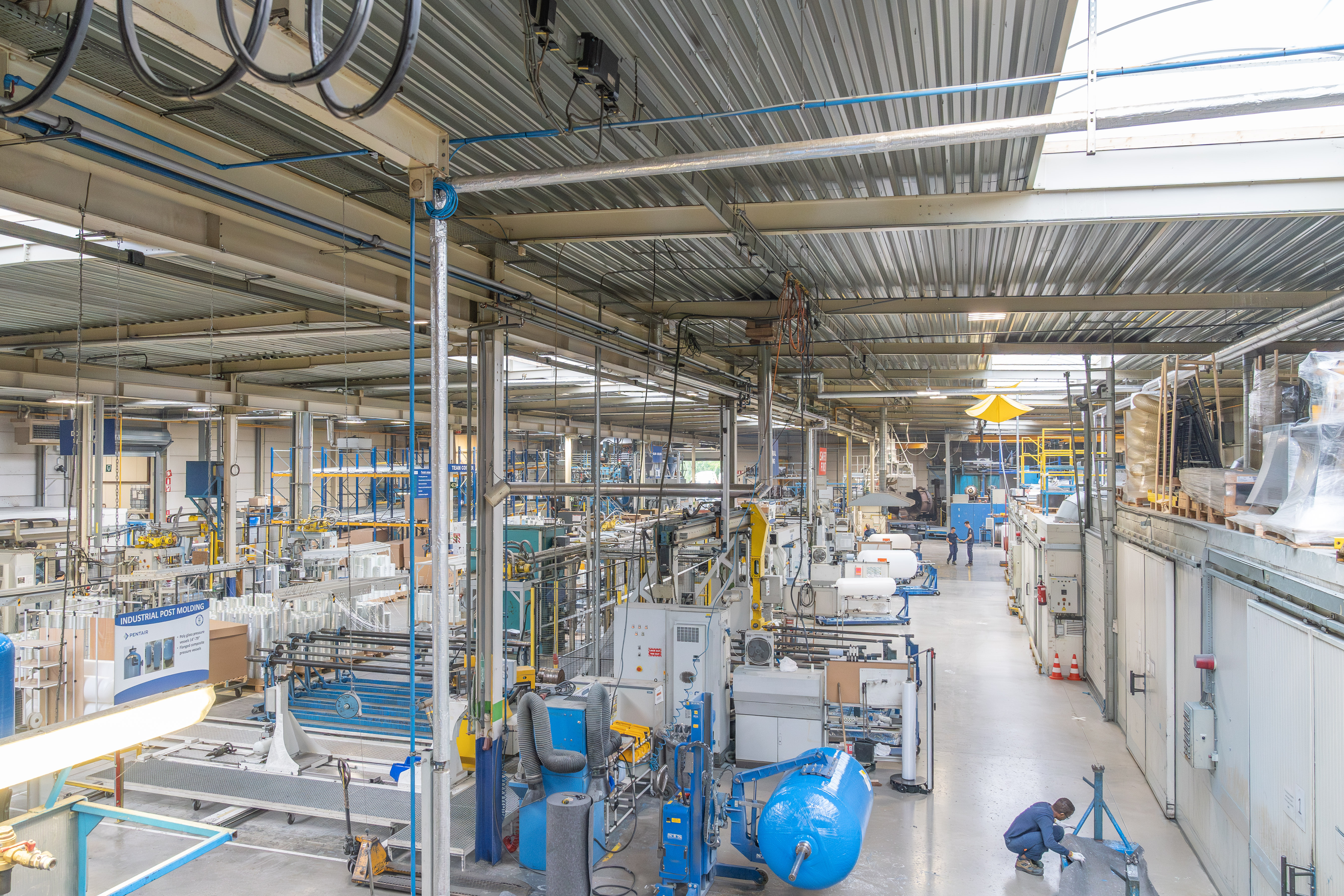 Quality testing reached new highs
Staf explains how inline and automated testing of the new WellMate tanks takes the Herentals quality system to new highs. "Every single WellMate tank will undergo two tests; a structural test and an assembly test. Structural integrity is key in a pressurised vessel and we apply internal pressure up to PED requirements to test each tank. In addition, we subject the final assembled WellMate, with all its O-rings, gaskets, bladder and pipes in place, to a helium air test. There is no more reliable way to test for potential water leakage than sniffing out helium and every tank will need to pass that test before it moves through distribution. It is how we can guarantee 100% quality."
A bright future for WellMate in Europe
Co-ordinating the insourcing of WellMate to Herentals at a European level is Leonardo Sestito, Pentair Lean Production Manager. "Bringing WellMate production to Europe is a great outcome on many levels – for Pentair and our customers," he says. "None of it would have been possible without the commitment and dedication of the Herentals team. They had to go above and beyond to make it all happen – and they delivered! We split the programme into two phases. In the first phase we aim to pick up production of the bulk of the WellMate range that was formerly sourced from the USA. That will represent around 75% of the current demand for WellMate tanks in Europe. We will keep around 15 days stock of major lines and that will reduce lead time from around 5 months to 15 days."
We will keep around 15 days stock of major lines and that will reduce lead time from around 5 months to 15 days.
"WellMate tanks currently satisfy USA Water Quality Associations and are certified to CE and NSF/ANSI standards," continued Leonardo. "By phase two we hope to have locally sourced and certified some of the non-standard items, like the WellMate pressure bladder and inlets. That in turn will permit us to achieve wider European certification for WellMate, opening up new markets and applications. In the longer term we hope to increase volume production of this much-loved tank ¬¬– there is certainly the demand as more and more water treatment professionals are specifying Pentair WellMate."