Pentair People: Sara Basilicò, Residential Valve Area Leader, enjoys new challenges every day.
It is sometimes said, "If you want a job doing, ask a busy person." One could add to this paradox, "If you want that job doing well, ask a busy Sardinian!". The island is noted for a superb work ethic and 'can-do' attitude. Residential Valve Area Leader, Sara Basilicò from Sardinia brought those qualities to Tuscany when she joined the Pentair Pisa Manufacturing team in 2008.

Sara sits at the heart of three manufacturing 'cells' responsible for assembling and testing all Fleck residential valves that leave the Pisa factory. It's a demanding role but a big smile radiates her energy, enthusiasm and passion for the job.

Sara talked to us about her day at Pentair, the importance of continuous improvement and her daily dose of SQDCP…

Something different every day
"Although I have been working at Pentair Pisa for 15 years, it still feels fresh," reflects Sara. "It seems that every day there is still something to learn and with that, an opportunity to fine tune it and make it better. I started my career here on the pump production line and moved to valves ten years ago when their assembly moved to Pisa. In the manufacturing area we work in teams (or cells) with a responsibility for different product groups. As the Valve Area Leader, I manage a group of three cells and together we assemble and test all the residential valves that leave the factory. It's a very busy role and every day brings new challenges, but that is what I love … I would not swap it for anything!"
Sara starts each day with a team briefing. "It is a chance to assess the workload for the day and decide on an hour-by hour-basis who will be doing which tasks. They all demand precision and accuracy, and I am lucky to have 15 great team members who are all well trained and enjoy their work. We all rotate between assembly and testing every few hours which keeps everyone alert."
"Here we produce the entire output of Pentair residential valves which power many water filtration applications and softening devices. That includes our Fleck, Siata and Autotrol ranges – in fact last year we adopted the worldwide production of Autotrol so things have got even busier! Every valve gets the highest level of care and attention, from specialist low-run valves to big-hitters like our ever-popular Fleck 5600."
It's a very busy role and every day brings new challenges, but that is what I love … I would not swap it for anything!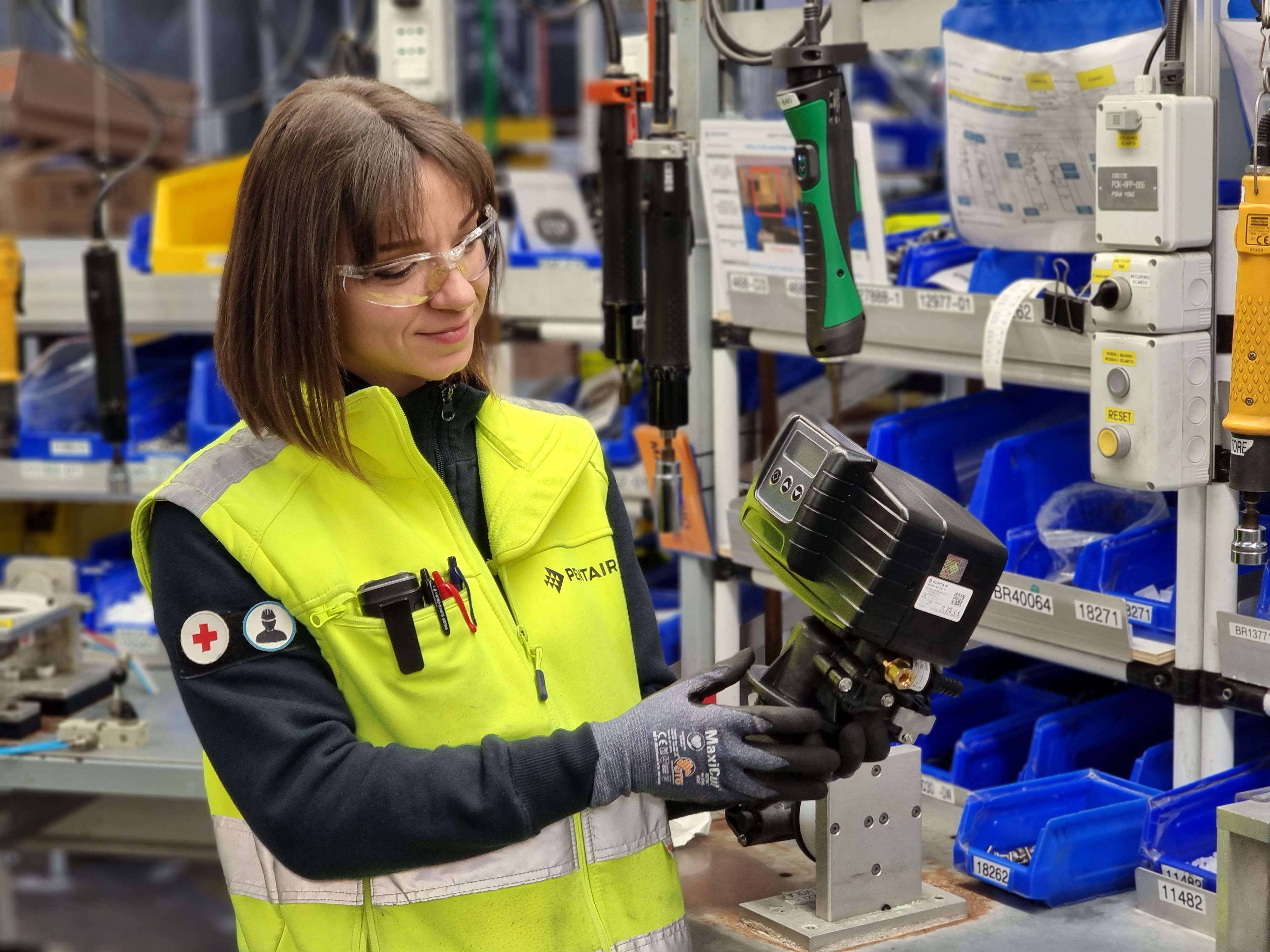 New testing technology assures even higher levels of quality
Sara believes a point of difference at Pentair over other manufacturers is that every single valve must successfully pass an end-of-line test before it leaves the factory, unlike common industry practice to rely on 'spot checks'.
"Ten years ago, testing was more time consuming and less accurate as valves had to be visually inspected and tested using water pressure." explains Sara.
That has all changed now. Pentair investment in new testing and quality inspection technology has made things faster, more reliable and effectively failsafe.
Machine vision and air testing are ground-breaking
"When I first started working in valve testing, we relied on a visual inspection to check the valve components, but it was not always 100% accurate. Also, if there were any issues, it meant rejecting the whole valve and 'unpicking' it to find out what was wrong," continued Sara.
"Today, our Machine Vision workstations use highly accurate smart cameras at every part of the assembly process. Each workstation uses high-definition AI cameras to check a different aspect of the valve component during assembly. One workstation checks the shape and profile of the piston, checking for any defects. Another verifies the correct dimension of the corresponding flow washer for the piston. A third workstation checks the final assembly against pre-loaded parameters. The workstations check against multiple criteria and, in a millisecond, will trigger an alarm if there are any issues."
"On top of this we now use air pressure for leak detection testing, which is not only five times more accurate that water, but safer and cleaner too. Air pressure is much more sensitive than water so it gradually 'amplifies' any quality issues and we can literally see any subtle drifts or changes in pressure. We have now equipped all our test-benches with air testing equipment. It means our testing is more streamlined, automated and error free."
Since we introduced these new testing methods, rejects and failures caused by leakage or incorrect assembly are virtually unheard of.
SQDCP – it's as simple as ABC
The Pisa factory is a Pentair European Centre of Manufacturing Excellence, and like every area of the business it has integrated industry best practices such as LEAN management and Kaizen into its own bespoke quality framework 'PIMS' (Pentair Integrated Management System). This in turn ensures its certificates, including ISO 9001 for quality, ISO 45001 for safety and ISO 14001 for the environment, are all maintained.
"At Pentair, quality is in our DNA," concludes Sara. "We all thrive on being part of such a quality conscious organisation, but you can never take things for granted. I attend numerous training sessions throughout the year to keep on track and help us continually improve. Ultimately it comes down to thinking, every day, how can I have a positive impact on Safety, Quality, Cost, Delivery and on the People I work with? It's become my motto: "SQDCP – it's as simple as ABC."
At Pentair, quality is in our DNA