Herentals Quality Team never stand still
Pentair are raising the bar for quality … again.
In 2021 we talked to Lieven Wagemans, responsible for Quality Management at the Herentals factory, about the difference a customer-first mindset makes to overall quality at Pentair. The company was then celebrating 25 years of compliance with ISO 9001, the international benchmark for quality management systems. Two years on, we revisit those who maintain the highest quality standards and find they have not been standing still.
New people, new tools, new levels of quality
"In many ways, I see quality management as an opportunity to continually improve," explains Lieven. "I talked previously about continuous improvement in product and process, but we too in the quality department have seen our own operational improvements. The team has grown, we have adopted the world's leading quality management software platform, and we have further streamlined our feedback processes to make life easier for our customers. All these changes serve to underpin a Pentair core value; 'Customer First'. It remains my number one priority for, without our customers, we would not be here."
Having a larger team gives Lieven greater scope to focus on raising the bar. Working alongside him for many years have been Joke Saenen and Geert Verlinden, both highly experienced engineers, and between the three of them they have over 50 years' experience of Quality Management at Pentair. They have recently been joined by Carlijn Lohrmann and Sven Van Peer who bring a new dynamic to the team.
"We are all immersed in driving forward quality," continues Lieven. "Whether that is quality control in production, product validation, inspections and audits, or complaint investigation, it's a non-stop agenda! On complaint handling, last year we have also added a new dedicated technical resource, who is a single point of contact for customers to fast-track warranty claims. That has not only dramatically reduced the time for customers to have a claim dealt with, it also gives my team more bandwidth to focus on the 'bigger picture' tasks.
We are all immersed in driving forward quality.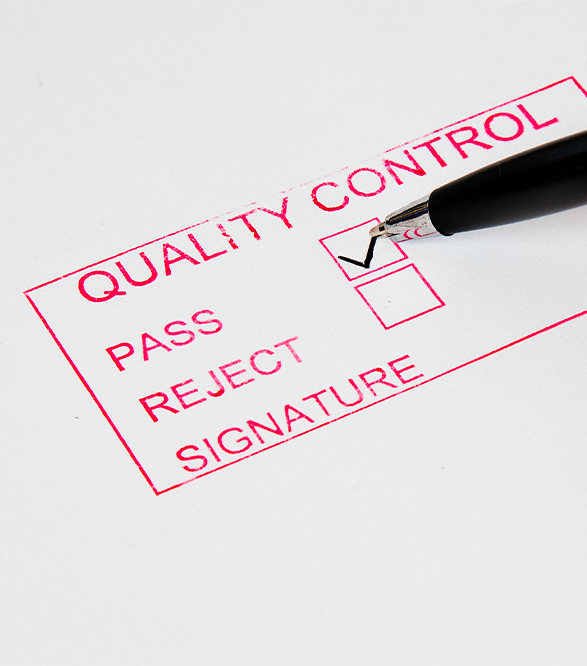 Quality is a habit at Herentals
Of course, the quality team does not work in isolation. Their great work is appreciated nowhere more than on the production line. Staf Snyers, Plant Manager at Herentals explains the special relationship. "It is no exaggeration to say we have a true 'culture of quality' here, it runs through the DNA of the building. Every operator, supervisor and manager is vigilant, trained to instinctively take responsibility for quality, and call out if they spot anything that might have an negative impact on the result.
Quality has become a habit at Herentals, thanks to Lieven and his team. They support us in a true spirit of collaboration, there to assess, advise and help us mitigate any risk of delivering less than the best. We monitor any feedback we receive on product issues. In 2018 our 'field failure rate' (FFR) was a miniscule 0.7%, yet that FFR is now only 0.35%. That speaks volumes about the hard work of the quality team and they are focused on getting that down to zero!"
New QMS platform brings many opportunities
"Another big step here has been the company-wide implementation of the best-of-breed Quality Management Software Systems (QMS)," continues Lieven. "While our previous in-house systems were robust, the new QMS platform brings many new opportunities. I have always advocated 'evidence-based' improvement, where we capture, analyse, filter and prioritise anything that can impact our quality. Our new QMS database takes that to another level, reducing the time we spend on document revision and speeding up issue resolution. We plan to use it for environmental, health and safety management soon too."

Proactive quality management is key
Both Lieven and Staf are keen to draw the distinction between 'reactive' and 'proactive' quality management.
"Handling complaints and warranty claims in a fair and timely manner is the least our customers expect and we have made great strides in those areas," observes Staf. "However, a proactive Quality Management approach reduces the incidence of those occurring in the first place. I see our Quality Team as the 'voice of our customer', who channel and filter their feedback thus enabling that process of continuous improvement across the board. And remember, quality is not just about the product – it is about delivery, communications, aftersales, in fact every interaction a customer may have."
Lieven agrees, "I am proud of all the work my team does here, but if I single out one key achievement it is the way we have mastered Change Management at Herentals. Long gone are the days of fire-fighting. When it comes to Change Management we put everything under the microscope, from the business rational, to the impacted documentation. We factor every eventuality and risk, from the product, suppliers, actions plans, approval and verifications. That is 'proactive' quality management. It might not be something that the customer can physically touch, but it keeps them coming back time after time."