The customers of Piscine Clean and WhisperFlo VSF: a pump that everyone will enjoy
Encountered at the Piscine Global 2022 trade fair, Fluvia Vermandere manages the company Piscine Clean, which has just celebrated its tenth birthday. We had the pleasure of discussing together her professional experiences with swimming pools, especially with the WhisperFlo VSF pump that she often installs.

"Piscine Clean has existed for ten years. We started with maintenance only, and maintenance led to renovation, then construction. And, for a few years now, we've been specialising in luxury swimming pools. It's often the masterpiece of the garden. You get to know the customer at home, in their environment, to personalise their swimming pool according to their needs, a bit like an interior designer would. A lot of people approach us, thanks to word of mouth: they've discovered one of our swimming pools at a friend's house or in a bed and breakfast, and they have to see the creator."

Along with the creation of luxury swimming pools, Fluvia also mentions her maintenance and renovation work. The time to suggest state-of-the-art equipment that provides her customers with everything they want, while also keeping them on board:

"We also maintain a lot of swimming pools: especially changing liners and equipment. I recently replaced a pump for a customer who complained about noise. From her pool, we could hear the pump, which was located in an area 100 m away. And yet this was a new pump. I suggested to her a WhisperFlo VSF, very quiet and much more economical: she paid off the purchase in 2 years, thanks to the energy saved!"
Thanks to the calculator that shows the savings made, customers can be persuaded, almost without even trying!
A growing demand for more energetically responsible swimming pool solutions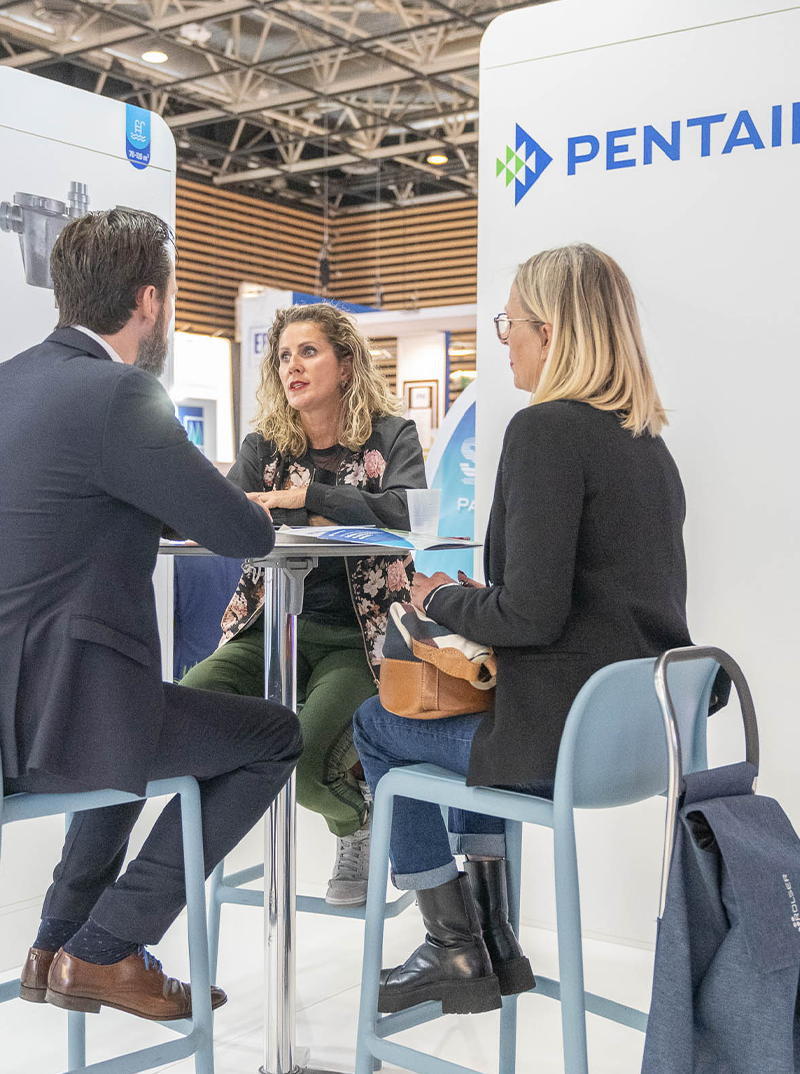 Fluvia Vermandere considers the concepts of economy and ecological responsibility. She comments that the demand has greatly increased and that owners are now looking for solutions compatible with current environmental and energy-related issues.

"We're also going to add an 'Environment' section on our website to highlight item filters, variable speed pumps and LED bulbs. The customers are really keen and it's new. Cost estimates for the variable speed pump were too high and we had trouble selling them. Now with the economic crisis, and thanks to the calculator that shows the savings made, customers can be persuaded, almost without even trying!"
The variable speed pump: now an undisputed choice

For Fluvia, the variable speed pump really is at the heart of the network of a smart and sustainable swimming pool. And as well as being as economical as possible, a pump of this kind really is quiet: a pleasure for any owner who wants to finally enjoy their swimming pool without audible disturbances.
"And the WhisperFlo is so quiet… recently, I entered an area where one had been installed, I thought that it wasn't functioning properly because no-one could heard it working! In fact, I made a little video of this moment, which enables me to show just how quiet it is. When I talk about saving energy, about silence, the customer always says, 'Great, I'll take it!'. I have a German customer who told me recently, 'Fluvia, I can tell you exactly when you changed the pump, the difference to my consumption is so obvious!'"