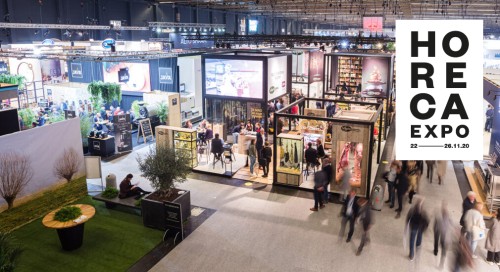 Later this month, the movers and shakers of the catering world will gather in Ghent for HORECA Expo 2021, Belgium's biggest Hotel, Restaurant and Catering exhibition. For over 30 years, this prestige event has showcased the latest innovations that go on to transform the food service industry.
In 2019 over 50,000 visitors came to discover, learn and share on the HORECA show floor and its wide programme of workshops, seminars and demonstrations. After a two-year absence, so much has changed and delegates are relishing the opportunity to get up-to-speed and face-to-face with the technology that will impact their businesses in months and years to come.
Any business that uses water will be sure to make a beeline to the Pentair Stand in Hall 3. Pentair, one of the largest water filtration and treatment manufacturers, has been busy since the last HORECA, and its products set the benchmark for innovation and quality.
On the Pentair Stand this year, the conversations will be all about water quality; why it matters, why it is changing and how it can, quite literally, mean the difference between success and failure of a business. Heading up those discussions will be WQA Master Water Specialist, Ronny Billemon.
"Water is the essential basic element in so many catering businesses, but probably one of the least understood", explains Ronny. "Water quality can make or break the customer experience – not to mention the equipment that is being used. Sadly, most tap water just doesn't cut it anymore, and that situation has been getting worse. And while many businesses have a solution in place, more often than not, they don't fully understand how to make the most of it. At HORECA, we want to spotlight the importance of water quality and the difference it can make to taste, health and the life of your equipment. And of course, how you can turn it to your advantage."
Good for your customers, good for your equipment.
Expect plenty of lively debate and demonstrations on the Pentair Stand. Visitors will be able to witness first-hand the dramatic impact treated water can have on everything from steam to ice. Using world-leading Pentair Everpure products, the team will be able to show the profound improvements filtration and reverse osmosis can have on water taste, whilst protecting equipment and reducing running costs.
On the subject of running costs, Pentair will also be featuring its latest Everpure Conserv systems. These highly efficient, compact systems not only provide the ultimate in filtration, reverse osmosis and tailored water, they also use over 50% less water than other comparable products. Good for your customers, your equipment and your bank balance.
There is plenty more to see on the Pentair Stand so make sure you drop by for a chat and a catch up. It might be the best decision you make at HORECA!
Coming to HORECA Expo?
Make the most of your time.
It's going to be a busy show, but we don't want you to miss out. Ronny and his team are already pre-booking meeting slots during show hours. Just drop Ronny a line at:
ronny.billemon@pentair.com
and we will be sure to look out for you.
DIARY DATE
Water Quality Workshop | 2.00 – 3.30 | 24 November 2021 | Coffee and Tea Academy | Hall 2
Pentair's Ronny Billemon will be sharing his knowledge and experience of water treatment for food service in this highly interactive seminar. Learn about the causes and effects of, and solutions to, untreated and poor-quality water. Experience first-hand the dramatic impact treated water can make to hot drink brewing and flavoured waters.
---
HORECA Expo will run from 21–25 November 2021,
Flanders Expo Ghent
Pentair Stand: #2416, Hall 3