Reduce our carbon footprint
At Pentair, we recognize that responsible energy consumption is a key component of making life better for people and the planet. We are committed to reducing our impact through energy efficiency in our operations and a reduction in greenhouse gas (GHG) emissions. We have made notable progress to reduce greenhouse gas emissions in our operations, having decreased our total Scope 1 and 2 GHG emissions by 29% in 2022, as compared to the 2019 baseline.

This progress was acheived through a combination of efforts including procuring green electricity for our facilities and efficiency efforts. At the end of 2022, 37 percent of Pentair's total electricity usage came from renewable resources, representing 18 percent of our total energy usage.


Pentair Social Responsibility Strategic Target:
Carbon Footprint Reduction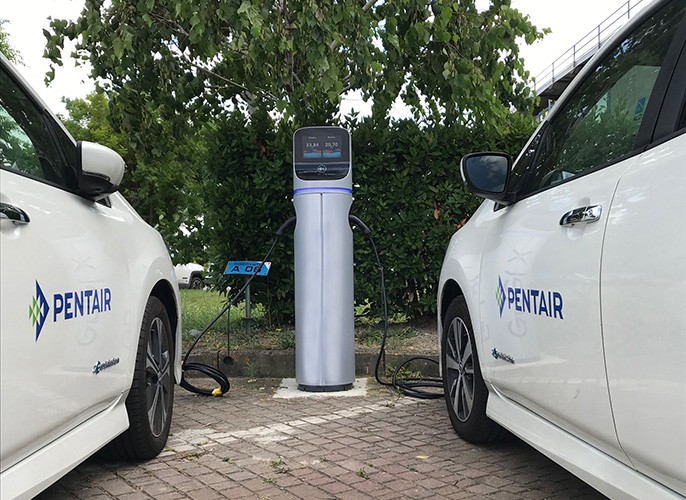 Pentair is targeting reducing our Scope 1 and 2 GHG emissions by 50% from a 2019 baseline by 2030, and aim to achieve carbon neutrality by 2050.

Progress Highlight: In 2022, Pentair's total Scope 1 and 2 GHG emissions decreased 29% compared to the 2019 baseline.
As we look forward, we plan to continue to focus on continued progress through the components included in our Low Carbon Transition Plan (LCTP) which we began implementing in 2022. Critical components of our LCTP include:

Energy efficiency improvements: We are working to identify efficiency opportunities to develop standardized internal guidance for upgrading existing, and any new, facilities.
Electrification: We look for opportunities to promote electrification, including replacing and upgrading manufacturing equipment, as well as increasing the efficiency of our vehicle fleet.
Renewable electricity: Five Pentair sites were powered via purchased renewable energy in 2022.
Solar: Four Pentair sites utilize solar power generated on-site.